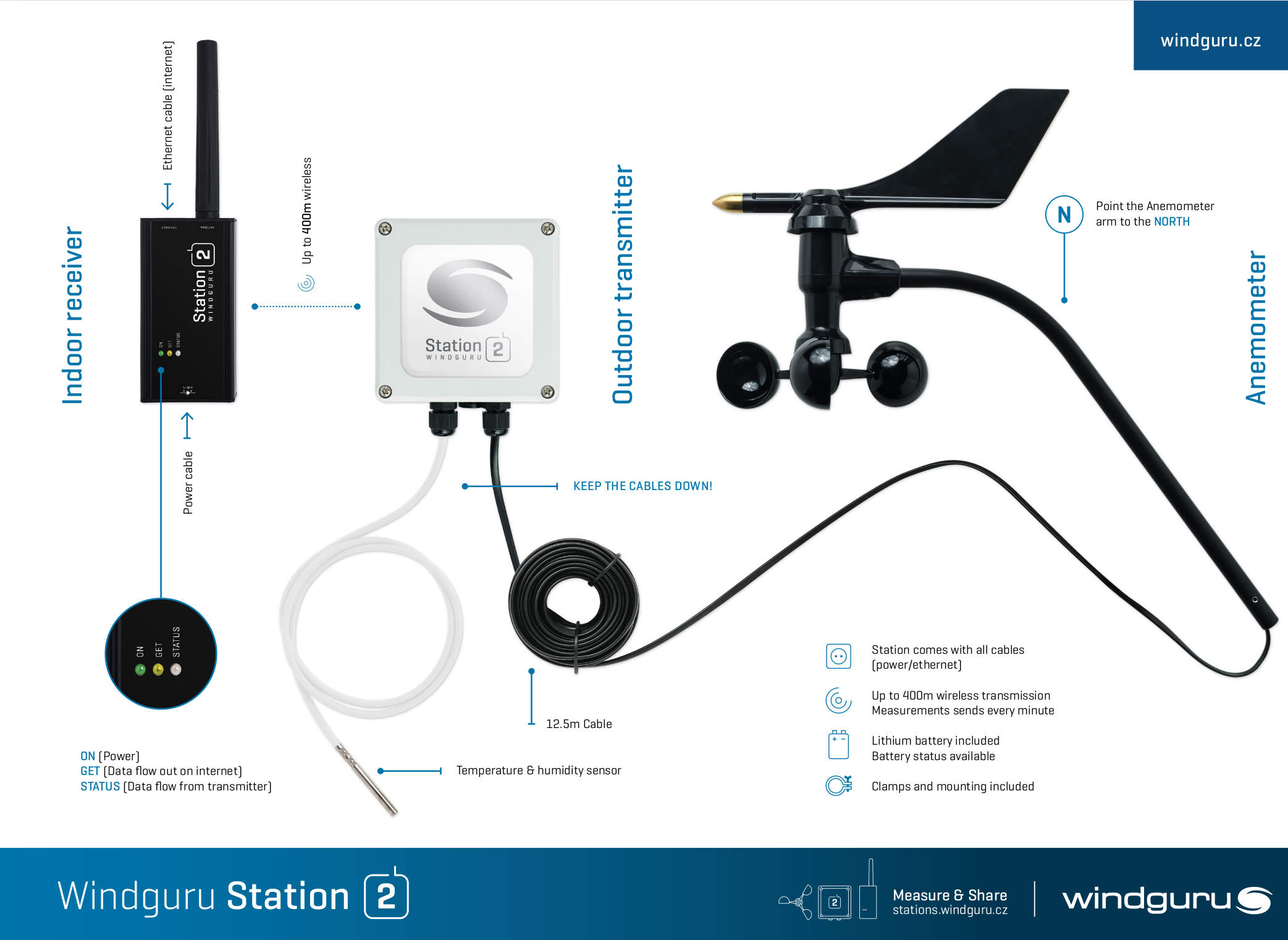 What is the Windguru Station?
Windguru Station 2 is a unique wind station designed to measure & share live wind readings easily on the Internet. (one minute data - max, avg, min). Temperature sensor included. No data loggers or other hardware required, it's plug & play. The station has up to 400 meters wireless range. Measurements are processed by Windguru and available in real time / online on internet.
The sensors are connected into battery powered outdoor unit, the outdoor unit sends measurements wirelessly to indoor unit. Indoor unit is connected to internet and push data to windguru server

Windguru Station brochure (PDF)
Windguru Live
is our "all in one" widget powered by your station that you can put to your site easily (see example right on this page). The Windguru Live icon itself is very compact, variable size will fit anywhere in your site, and is really live! showing the current wind speed measured by your station. If you click it you will see detailed info with current conditions, wind graph, weather forecast and forecast map in a lightbox, right on your website
Windguru Station 2
Windguru Station 2 - is our new enhanced version of our station. Experience with the first generation helped us to tune it and make even better product. We use a new polycarbonate case for higher durability, stronger antennas for higher range, and both receiver and transmitter units are now equipped with memories to cache the measured data and cover short internet or power outages.
Benefits
Windguru Station 2

up to 400 meters wireless range
precise Davis anemometer
units equipped with data memory
real time / online readings
detailed - one minute measurements - max / avg / min
plug & play

Windguru Live

customized live weather for your club
truly live weather icon on your webpage
live wind & forecast + wind map

1 Windguru Pro account for free
Your logo on Windguru
Live measurements available from anywhere
Data stored on Windguru
Download data as CSV
API to work with your data
Warranty: 2 years on functioning
Costs
€400 + VAT for complete package
(indoor & outdoor unit, Davis anemometer, temperature sensor, cables)
Shipping worldwide: €20 (standard) or €100 (FedEx)
No maintenance cost
No hidden fees
Negligible data transfer requirements (cca 30 MB/month)
Standard transmitter battery (CR123A, lasts for 2 years)
If you have any questions contact us at stations@windguru.cz